I föreställningen JOIN får du chans att göra ett besök på Corpus, ett företag i den globala ekonomins absoluta framkant. Corpus är ett nätverk av medarbetare som reser över världen i olika ärenden – det finns inga fasta yrkesroller, bara tillfälliga uppdrag. Nya arbetsgrupper sätts samman och bryts upp i ett högt tempo: switch, ny projektledare, switch, ny uppgift, switch, ett nytt liv.
JOIN är en interaktiv upplevelse där publiken deltar. Som medverkande tar du plats som "nyanställd" på Corpus. Du genomgår introduktionen till hur företaget fungerar, i bl.a. möten med anställda och i olika spel.
JOIN är ett samarbete mellan Teater InSite, som gör teater utifrån ett platsutforskande perspektiv där gränsen mellan scenrum och publik bryts ner, och Nyxxx, som bjuder in publiken till olika sociala och lekfulla situationer. Med avstamp i klassiska dystopier som Du sköna nya värld, 1984 och Kallocain har de skapat en helt ny berättelse, som utifrån stämningar i vår samtid kastar sig in i framtiden.
Föreställningen spelas på svenska, engelska och danska. The performance is in Swedish, English and Danish.
The challenge chose you, JOIN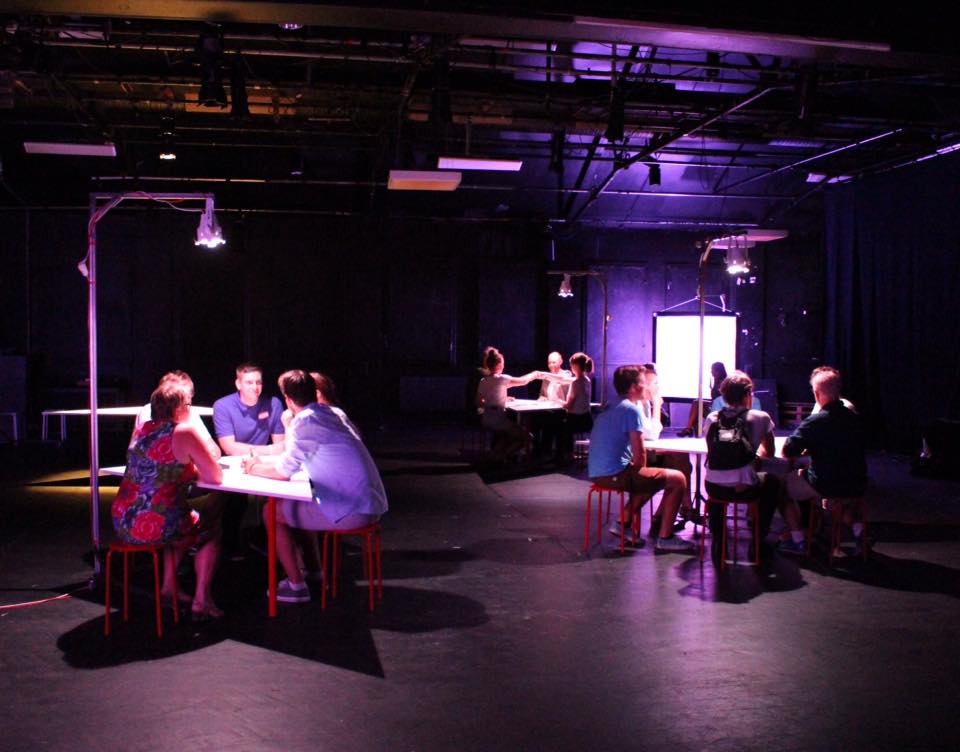 Speldatum Bastionen, Malmö
Premiär fredag den 21 augusti 2015.
Söndag 23 augusti kl 19.00
Onsdag 26 augusti kl 19.00
Torsdag 27 augusti kl 19.00
Fredag 28 augusti kl 19.00
Lördag 29 augusti kl 19.00
Onsdag 2 september kl 19.00
Torsdag 3 september kl 19.00
Fredag 4 september kl 19.00
Söndag 6 september kl 19.00
På Turné
Lördag 12 september kl 19.00 Lund, Stenkrossen
Fredag 18 september kl 19.30 Simrishamn, Valfisken
Tisdag 22 september kl 19.30 Kristianstad, Kulturkvarterets Lilla salen
Lördag 26 september kl 18.00 Ängelholm, Biblioteket hörsalen
Speltid: 90 minuter
AV: Ebba Petrén, Gabriel Widing, Matthias Hahne Thorbjörnsson
REGI: Ebba Petrén
SPELDESIGN: Gabriel Widing
LJUDDESIGN: Jonas Åkesson
LJUSDESIGN, RUM: Ilkka Häikiö
MEDVERKANDE: Matthias Hahne Thorbjörnsson, Liv Vesterskov, Märta Lundin, Thom Kiraly